Perfect pasta e fagioli
Prep 10 min
Soak 8 hr
Cook 90 min
Serves 4
175g dried borlotti beans
2 celery sticks
2 carrots
1 large onion
Sprig of rosemary (optional)
2 tbsp extra virgin olive oil
75g fatty pancetta, diced (optional)
2 tinned plum tomatoes
175g small macaroni, or other dried pasta
25g butter
15g grated parmesan or pecorino
Soak the beans in plenty of cold water for about eight hours, then drain. Put in a large pan with one each of the carrots and celery sticks, both snapped in half, and half the onion.
Put the soaked borlotti beans in a pot with one carrot, one celery stick and half an onion. Cover with water, bring to a boil and simmer for an hour.
Cover with cold water by about 3cm, bring to a boil, then skim the top. Add the rosemary, if using, turn down the heat and cook until the beans are tender (this should take around an hour, depending on their freshness). Make sure the beans are always covered with water, so top up as necessary.
Towards the end of the cooking time, peel and cut the remaining onion, carrot and celery into fairly fine dice, keeping the onion separate.
Dice and fry the remaining onion, carrot and celery in olive oil until soft and golden.
Heat the oil in a wide, high-sided pan over a medium-low heat and saute the onion until soft and golden, then add the carrot and celery, and do the same. Add the pancetta, if using, and fry until it releases its fat, then stir in the tomatoes, breaking them up with the spoon.
Stir in the tomatoes – break them up with a wooden spoon.
Once the beans are cooked, remove and discard the vegetables and rosemary, and scoop out a ladleful of the beans. Mash these with a little of their cooking water to make a paste, then stir into the soup with all the whole beans and enough of the cooking water to make a thick soup.
Let the soup simmer gently while you cook the pasta in salted boiling water in another pot until al dente.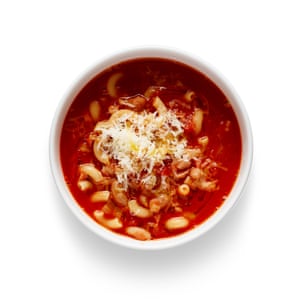 Cook the pasta, mash a few of the beans, then add both to the soup with some butter. Serve with parmesan sprinkled on top.
Stir the drained pasta into the soup along with the butter, cover, take off the heat and leave to sit for five minutes. Season to taste and serve with a sprinkling of cheese.