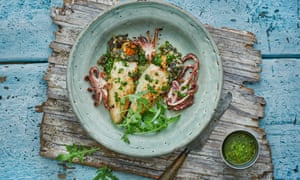 Serves 4
mussels 500g
fresh spinach 450g
garlic 2 cloves, finely chopped
olive oil
dry white wine 5 tbsp
dried chilli 1
fresh white breadcrumbs a handful
lemon juice of 1
sea salt and freshly ground black pepper
freshly grated nutmeg a pinch
fresh flat-leaf parsley 2 tbsp, chopped
squid 8 medium, with tentacles cut off and reserved, cleaned and skinned
garlic, lemon and parsley dressing to serve (see below)
green salad to serve
Preheat the oven to 240C/gas mark 9. Scrub the mussels and remove the wispy beards. Discard any shells that are broken or that are open and do not close when tapped sharply.
Put the mussels in a large pan with a little water, cover and steam for 3-4 minutes, until they open. Remove them from the shells. Discard any that remain closed. Strain the liquid to remove any grit, and reserve.
Wash the spinach and cook it over a low-medium heat in the water still clinging to it for 2-3 minutes. Drain and finely chop.
Fry the garlic in 1 tbsp olive oil over a medium heat for 2-3 minutes, or until it starts to brown. Add the spinach and wine and boil for 2 minutes to cook off the alcohol. Take off the heat.
Crumble in the chilli, then add the breadcrumbs and mussels, and moisten with the reserved mussel liquid and the lemon juice to make a workable stuffing. Season and add the nutmeg and parsley, then stuff the squid with the mixture, securing the end with a cocktail stick if you wish.
Heat 1 tbsp olive oil in an ovenproof frying pan over a high heat, then sear the stuffed squid and tentacles on all sides until golden – approximately 3-4 minutes in total.
Transfer to the oven and roast for 6-7 minutes, or until cooked. Drizzle with the garlic, lemon and parsley dressing and serve with a green salad.
Garlic, lemon and parsley dressing
Season 6 tbsp good olive oil with sea salt and freshly ground black pepper. Stir in 1 crushed garlic clove and 1 tbsp finely chopped fresh flat-leaf parsley. Mix in lemon juice to taste.
From Fish Easy by Mitch Tonks (Pavilion, £19.99)