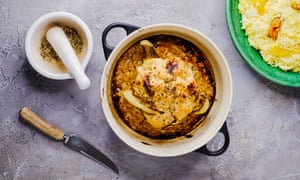 A simple and tasty dish which, depending on the size of your household, could last you a couple of days. If you don't finish it on the day of cooking it is great chopped and mixed into an omelette or stirred through a tomatoey curry sauce. I find that it pleases both anise flavour lovers and those who think they hate it. If fennel is not your thing, you can always vary the spices: use cumin instead of caraway and double up on coriander. It is a good recipe for using up your spices, which can bring the cost down!
Total cost: £7.95
Serves 4-6
cauliflower 1, including its leaves
mild olive or vegetable oil 1 tbsp
coriander seeds 1 tbsp
fennel seeds 1 tbsp
caraway seeds ½ tbsp
cayenne a pinch
salt
full-fat Greek yogurt 200g
For the turmeric rice
basmati rice 280g 
fresh turmeric 4 finger-joint-sized roots
lemon 1, zest peeled
Preheat the oven to 200C/gas mark 6.
If your cauliflower leaves look fresh keep them on – they will catch the yogurt marinade, and they taste great. Use half a tablespoon of oil to grease the bottom and sides of a large cast-iron casserole pot. Then pop your cauliflower in pretty side up. You should be able to close the lid. (If you don't have a cast-iron casserole pot, you can improvise with a deep baking dish or a deep roasting tray and some foil.)
Combine all the spices with a pinch of salt and either bash using a pestle and mortar or blitz in a blender. If the spices don't grind into a powder, it is not a problem.
Mix the spices and remaining oil through the yogurt. Taste for salt, add more if you think it needs it.
Pour the yoghurt mixture over the cauliflower, gently tease it down the sides. Put the lid on and put it in the oven. After 30 minutes, it should have a deep golden crust. Leave for another 10 minutes if it's looking pale.
Meanwhile, put the rice into a pot and cover with 560ml water. Bruise the turmeric roots and pop it in with the pieces of lemon peel. Season the rice and cook as per packet instructions.
When the cauliflower is deep golden and ready, take it out and serve with the turmeric rice.
Olia Hercules is a chef and food writer